September 2019 — We say farewell to several of our long-time lab members and welcome some new ones – welcome to Nathan, Erin and Lauren!  Dr. Souza begins a 3-year term as Chair of the Department of Communication Sciences and Disorders.
May 2019 — In collaboration with the Language & Communication in Aging and Neurodegeneration group at Northwestern, we are awarded a supplement grant from NIH to study the effects of hearing aids on conversation between adults with Alzheimer's and their communication partners.
Some of our events in 2018 — Congratulations to Varsha Rallapalli on being awarded the ASHA New Investigator Grant!  Several of our lab alumni begin new positions: Eric Hoover as Assistant Professor at University of Maryland; Jing Shen as Assistant Professor at the University of Western Michigan; and Paul Reinhart as a researcher at the Naval Submarine Medical Research Laboratory.  Dorina Strori receives a grant from the Alumnae of Northwestern University to support her project "Understanding Foreign-accented Speech in Noise by Hearing-Impaired Older Adults.  Jing and Pam present a day-long workshop at Duke, focused on cognitive screening in the audiology clinic.  (The workshop is well received and they enjoy their brief stay in 80 degree sunshine.)
Some of our events in 2017–Paul Reinhart defends his dissertation work, entitled "The Interaction between Reverberation and Hearing Aid Processing for Speech Perception in Noise".  Rachel Ellinger is awarded an ASHA Students Preparing for Academic Research Careers award – congratulations Rachel!  Pam makes a short trip to London, where she is involved in a hearing aid grant to develop speech enhancement techniques that use binaural processing.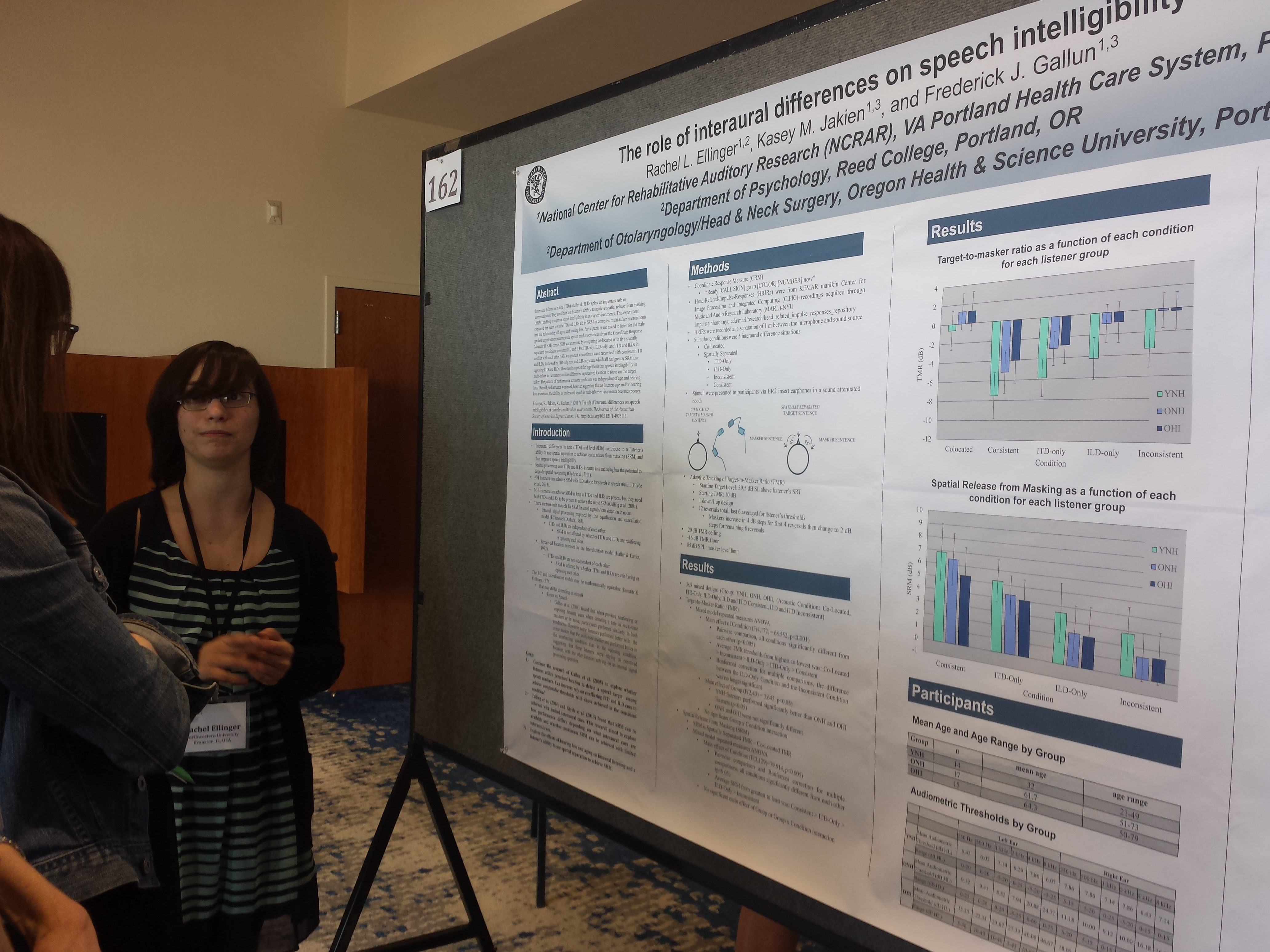 Some of our events in 2016–With our collaborators Erick Gallun, Richard Wright, Pavel Zahorik and Jim Kates, we are awarded a 5-year grant from NIH to continue our work in understanding how advanced signal processing algorithms interact with an impaired auditory system.  Dr. Tim Schoof (with her colleagues Axelle Calcus & Barbara Shinn-Cunningham) organizes and hosts the 2nd edition of the Frequency Following Response Workshop in Boston, MA.  Paul Reinhart is awarded a predoctoral fellowship, "Individual Differences with WDRC Amplification in Challenging Environments" from the National Institutes of Deafness and Communication Disorders to support his dissertation research.  Congratulations Paul!
Some of our events in 2015: Paul Reinhart is awarded the American Academy of Audiology Student Investigator Hearing Aid grant.  Jing Shen welcomes a new family member when Brandon joins big brother Adrian. She also begins work on her NIH postdoctoral award, studying the role of pitch perception in older listeners communicating in multitalker environments.
Some of our events in 2014:  Eric Hoover completes his PhD and begins a postdoctoral position in the Auditory & Speech Science Laboratory at the University of South Florida.  Paul Reinhart receives the 2014 Student Research Grant in Audiology from the American Speech-Language-Hearing Foundation.  Barbara Ohlenforst completes her master's thesis and begins her PhD studies at the VU University Medical Centre in Amsterdam.